Our solid medical waste processor uses an up to date, effective and safe method of medical waste disposal. The unit does not use direct incineration of medical waste. Instead, it applies the most modern technology: thermal pyrolysis (heat treatment at certain temperatures without oxygen) followed by reburning of innoxious products. This prevents dioxin emissions.
In terms of atmospheric emissions, our medical waste processing unit meets the most current requirements of EU, US and the effective Russian standards. According to the modern concepts, the applied technology is
the best way to dispose solid hazardous waste
.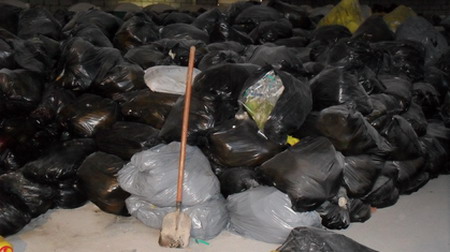 The purpose of the unit is the processing of medical (biological) waste of A, B and C classes, including the especially hazardous waste, as well as part of the D class that includes expired medical drugs, including cytostatic drugs. Those wastes include:
materials in contact with the sick with especially dangerous infections,
waste from laboratories working with pathogenic microbes of groups 1 through 4,
waste of TB and mycological hospitals,
waste from patients with anaerobic infections,
expired drugs which can also be highly toxic if it is antibiotics or cytostatics.
in addition, the unit recycles ordinary waste of medical institutions: packaging, disposables, dressing, etc., that is, the major part of waste.
The pyrolysis of medical waste generates inactive and innoxious solid residue, with a volume that is hundreds of times smaller than the original volume of waste, and innoxious gaseous products - carbon monoxide and water.

Dioxin emissions are eliminated.
A complete neutralization and disposal of organic waste is achieved through exposure to high temperatures without oxygen and subsequent high-temperature treatment in an oxidizing atmosphere over a certain period guaranteed by the technology. Thereto, the processes of pyrolysis, heating, mixing, oxidation and reburning in the gas phase are arranged so that all volumes of the pyrolysis products undergo a guaranteed treatment in given technological modes. This eliminates dioxin emissions, as well as low emissions of dust, nitrogen oxides and sulfur, which is confirmed by numerous measurements of the atmospheric composition made ​​by qualified laboratories in an operating production of medical waste processing.
The high quality of disposal of hazardous medical waste has also been achieved by a complete automation of the process, automatic control and precise maintenance of the key process parameters. Automation minimizes interference of the staff in the technology, providing security and minimizing the possible negative impact of human factors.
Disposal of medical (biological) waste - specifications
| | |
| --- | --- |
| | |
| The average caloric value of waste | 4500 kcal / kg |
| Mode | cyclic |
| Flue gas temperature | 180 ° C |
| The volume of flue gas | 17 500 nm3 / h |
| Fuel type | natural gas |
| Fuel consumption | 70 Nm3 / h |
| Power | Three-phase 380/220 V |
| Power consumption | 40 kW |
| Dimensions | 21.4 x 2.7 x 4.2 m |
| Unit weight | 40.7 t |
| Annual fund of net working time | 6850 hours |
| Service life | 5 years |
An example of implementation
The medical waste processor using the pyrolysis method was built and commissioned for a private customer in Yekaterinburg in May 2010. It was a fully automated and was easy to service unit. Commissioning of the unit made it possible to process hazardous waste in accordance with modern environmental standards. The products of the processing are inactive and completely innoxious substances like ash, carbon dioxide and water vapor. According to the results of repeated examinations the unit has completely proved its efficiency and safety, and the expansion its production is currently underway.